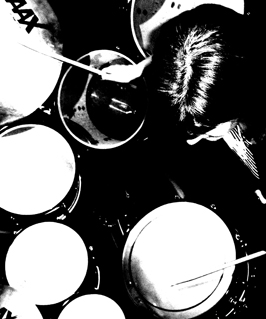 I offer one to one drum tuition for students of all ages, from 8 years upwards, from absolute beginners who have never held a drumstick, to improving intermediates. Two kits are constantly available, so there is no need for the student to leave the kit during lessons.
A wide range of resources are used during lessons which are often based around the Rockschool and Trinity College London syllabuses, though there is no pressure to take exams. Lessons are tailored to suit each individual student.
I teach in my own dedicated studios in Tamworth and Kingswinford, each equipped with acoustic and electronic drums, cymbals, music system, sticks, practice pads, paper and pencils, even a tambourine, in fact all the equipment a budding drummer could need.
Parents are welcome to sit in on lessons, and I do encourage this for younger students.
I play with Unforgiven, a rock covers band gigging regularly throughout the Midlands.